Bus Passes
Bus passes covering the Preston College area are available from Preston Bus, Stagecoach and Transdev (East Lancs).
There are a number of bus routes into college. Direct services will drop you off at the Fulwood Campus, while indirect routes, such as Transdev require that you change services at Preston Bus Station. The map below shows the routes and stops available. Please check the bus company websites for times (links are below the map).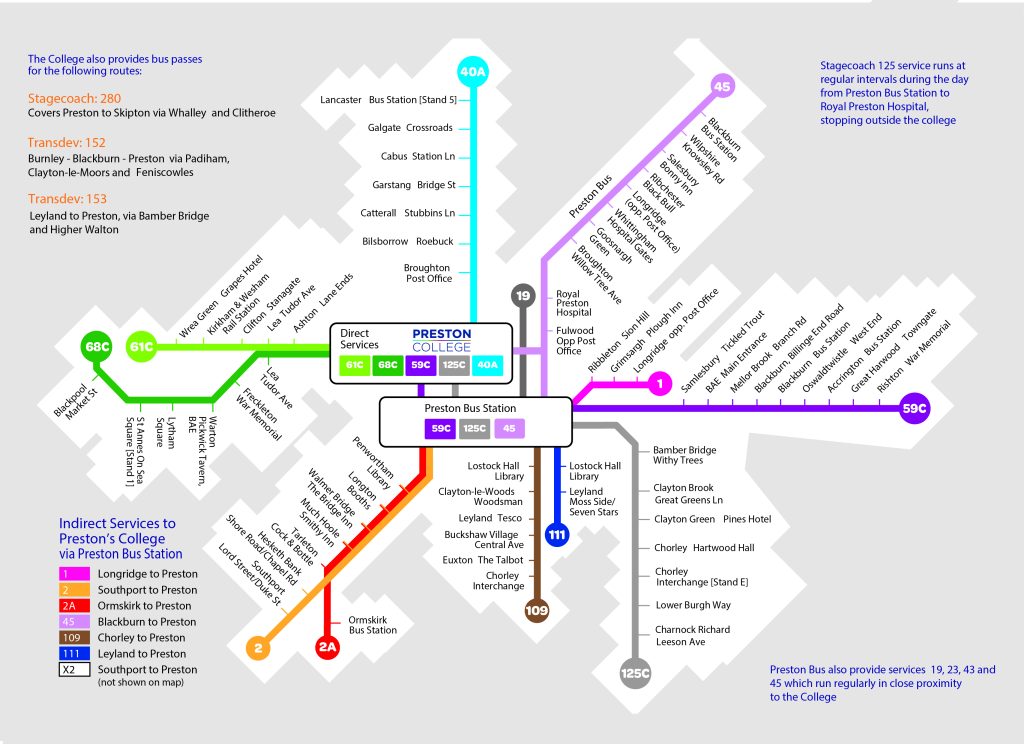 For more information on times and routes please visit the bus company website using these links: Preston Bus, Stagecoach, Transdev.
Aged 16-18: Eligible for a Bursary
If you are aged 16-18 and eligible for a Preston College bursary you will get a FREE bus pass. Eligibility for a bursary is based on a household income of less than £25,000*. To complete your bursary application please click here. To complete your bursary application you will need evidence of household income and your OWN bank account.
*If your household income is between £25,000 and £28,000, you will receive a 25% contribution to the cost of your bus pass.
Aged 16-18: NOT Eligible for a Bursary
If your household income is over £28,000 you are not eligible for any support from the bursary fund. This means that you are expected to pay for your bus pass, please see the Bus Pass Prices section for more information.
Bus Pass Prices
If you are only attending college one day a week and you don't need a bus pass for evening and weekend travel then a Under 19 dayrider might be the most suitable option for you. If however, you are in three or four days and would like to use the bus service at weekends then a bus pass would suit you best.
If you use an indirect service such as Transdev then you need another ticket to get to the Fulwood campus. Please note * below – the cost of Preston Bus passes for 16-18 learners is £200 annually (£70 + £70 + £60 termly)
Which bus pass is right for me?
To check which bus pass type you need to purchase please click here.