Higher Education Funding
At Preston's College, we understand that choosing to study for a degree is a big decision, with the financial implications of higher level study playing a key part in the decision making process.

As a higher education student at Preston's College, the good news is that you do not need to pay anything upfront, your tuition fees can be paid directly to Preston's College from the Student Loans Company, upon you successfully applying to them for a tuition fee loan, and you will only begin to re-pay the loan once you start to earn a certain amount of money.

The exact amount of tuition fee charged differs from course to course, so please visit your chosen course page for clarification on the exact fee.

A tuition fee loan is available to all eligible students (for eligibility checks, please click here). It is not based on household income and a successful application will result in your tuition fees being paid directly to Preston's College, on your behalf, by the Student Loans Company.

All those starting a course on or after 1st August 2016 are also able to apply for a maintenance loan, to help cover living costs. This is paid directly into your bank account, at the start of each term and like the tuition fee loan, has to be paid back.

The College will set, publish and charge fees for all its course provision. In determining fee levels, the College will operate legally and within national published guidelines where these exist.

Click here to access the HE Fees & Charges page.

Additional information relating to fees can be found in the Fees Policy:
Fees differ from course to course, so please visit your chosen course page for confirmation.

Additional Financial Support
Additional financial support is available, to those who qualify, in the form of Childcare Grants (full-time students only), Parents' Learning Allowance (full-time students only), Adult Dependents' Grant (full-time students only), Child Tax Credits and Disabled Students' Allowance. Additional eligibility criteria comes with all of these extra financial support funds and you should check the criteria before applying.

Re-paying your loans
Those who secure a tuition fee loan and/or maintenance loan will have to repay the loan, with any accrued interest. Your loan repayments are linked to your income and you won't have to start repaying the loan until the April after you have finished your studies and are earning over the threshold. For more information on loans and additional support visit: www.gov.uk/student-finance

Access to Higher Education
All eligible students starting a Level 3, 4, 5 or 6 qualification, for example, an Access to Higher Education course, at an approved college, such as Preston's College and aged 19 or above on the first day of their course, can apply for an Advanced Learner Loan. Additional eligibility criteria apply. For the most up to date information, please visit: www.gov.uk/advanced-learner-loan

If you successfully complete your access course and progress onto a recognised higher education course and successfully complete that course, Student Finance England will 'write off' any outstanding Advanced Learner Loan balance you owe for your Access to Higher Education Course, meaning that the loan you borrowed to complete the Access course at Preston's College doesn't have to be paid back.
Changes to Student Finance Funding Post-Brexit
If you are an EU national hoping to study at Preston's College, please take the time to read the information below, to determine if you are eligible to apply for and receive student funding, following the UK's departure from the European Union: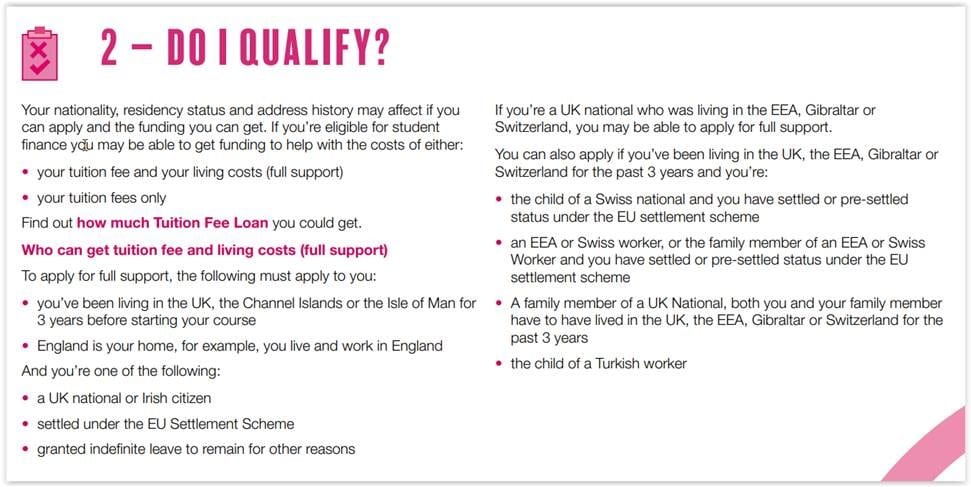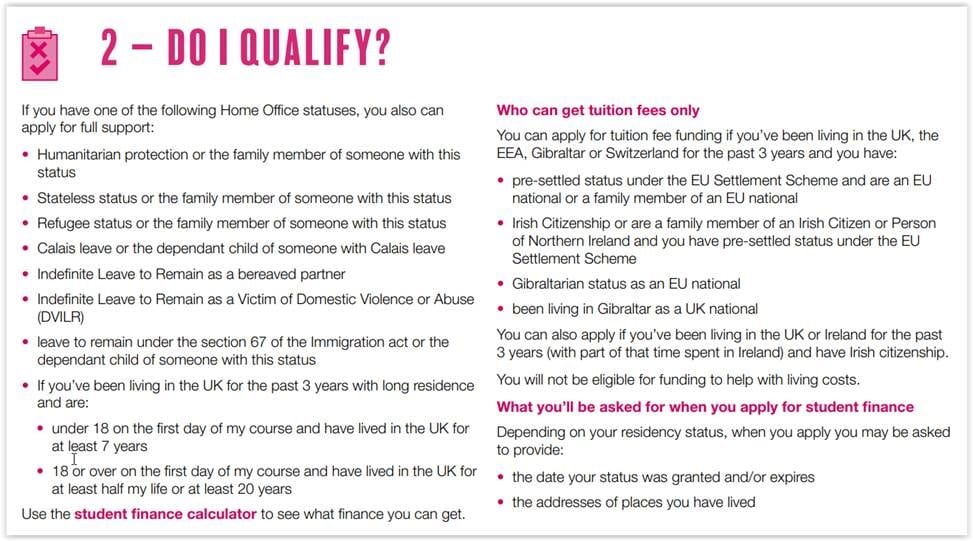 For full details, please click here to read the a document produced by Student Finance England.