Important Information for Parents/Guardians and Learners
COVID-19 TESTING FACILITY DIRECTIONS
At this moment in time, Preston's College's St Vincent's Road car park is being used as a Covid-19 testing facility. This enables members of the local community who are showing symptoms of the virus to receive a test and confirm whether they have contracted Covid-19, without the need to visit a hospital or medical centre.
We're proud to be able to offer this vital service on our campus, and for people who haven't visited to college before, we wanted to make sure you can locate the testing facility easily, and know how to apply for a test if you feel you have symptoms.
If you are using a GPS device (maps app on a smart phone, sat nav etc), please enter the postcode PR2 8YX as your destination. This should bring you to St Vincent's Road where the main entrance to the college is located. From there you should be able to follow the signage to the testing facility entrance.
There is no access to the testing facility via the Sharoe Green Lane entrance/car park.
If you would like to apply for a test, please follow this link to the Government's official advice & service: www.gov.uk/apply-coronavirus-test/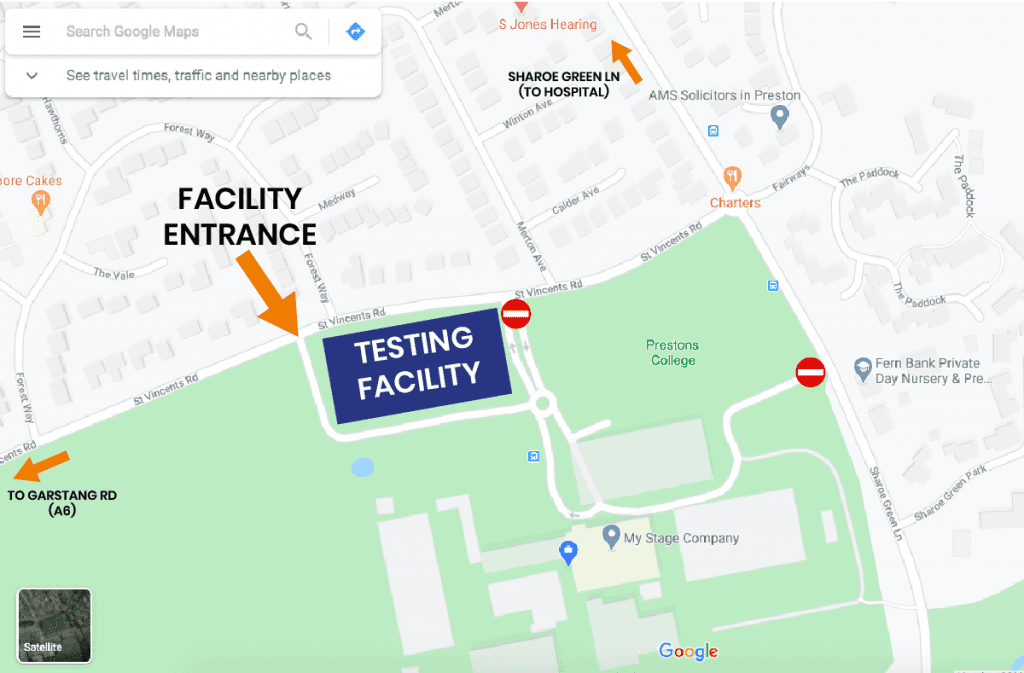 UPDATE ON REMOTE LEARNING & RETURN TO COLLEGE ACTIVITY
We welcome all learners back to home and online working, following the two week Easter break. We hope you have all enjoyed your time off and are ready to get back into learning.
With the UK Government's announcements, we wanted to take this opportunity to reinforce the importance of maintaining structure to your days whilst being asked to study from home. College staff are very much continuing to prepare resources and deliver learning that will help you to progress effectively on your chosen qualification and your tutors remain your first point of contact for any course related questions or concerns.

Please be assured that college support services continue to be accessible, should you require any support in relation to completion of work, student finance, wellbeing or counselling. Full contact details can be found in the link below.

We very much look forward to being able to re-open the college campus to all learners and staff but until we are able to do so safely, we continue to follow government guidelines, meaning all learning will continue to take place remotely until further notice.

Please keep your eye on both the website and our social media channels (@prestoncollege) for further updates and please continue to engage with your tutors via Canvas and other learning methods.

Additional advice and information for all learners and applicants can be found via the buttons at the top of this page.

If you have any questions or concerns, please email corona@preston.ac.uk
Our Support Services are still available, please click here for more information
For the latest Government advice, please click here
For information on Maths & English GCSE Results, please click here
For information on protecting your mental health, please click here
For information on monitoring your child's mental health, please click here

For information on external organisations working to support the most vulnerable people in Preston, how you can volunteer to assist and how you can make a referral, please click here
For information on the temporary use of the St Vincent's Road car park as a coronavirus testing centre, click here