REBUILD LANCASHIRE: Employer Incentives
If you hire an apprentice between the 1st April and 30th September 2021, you will receive £3,000 regardless of your apprentice age (and more in other cases ie: CITB grants; more information below).
You could receive:
>£4,000* for hiring a 16-18 year old apprentice (19+ with EHCP)
>£3,000 for hiring 19+ year old apprentice
>These employer incentives are paid on top of any other funding you are eligible for including the CITB grants and Lifetime Skills Fund. Please see below.
*includes the current £1,000 incentive for hiring a 16-18 year old apprentice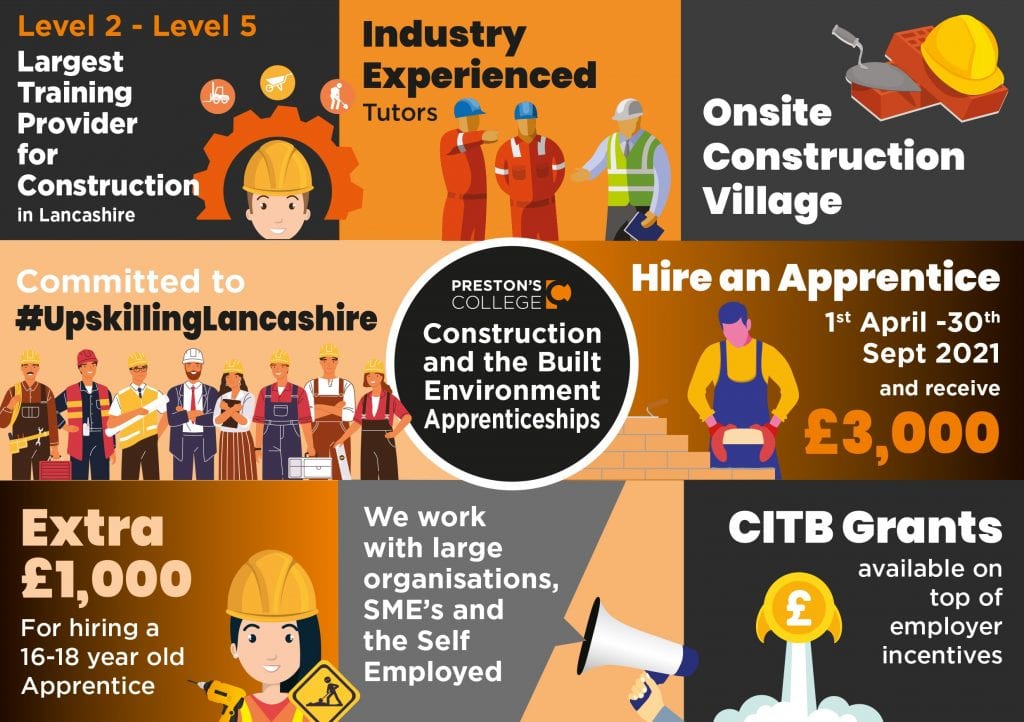 To be eligible, your new apprentice must:
>Be a new employer to your organisation
>Have a contract of employment start date between 1 April 2021 and 30th September 2021
>Not have been employed by the employer within the six months prior to the contract start date
Furthermore:
>You can receive £1,000 for each returning furloughed apprentice
> Choose from our talent bank of applicants ready and waiting to start an apprenticeship
>Be assigned a dedicated Employer Engagement and Apprenticeship Specialist
PLEASE NOTE: There is a max. limit of 10 new apprentices for each SMEs/non-levy paying employers.